Associate Professor of Archaeology, Pamela Eze-Uzoamaka (left); and the past Deans of the Faculty of Arts University of Nigeria Nsukka, Professor E. E. Okeafor; Professor Uchenna Casmir Anyanwu; Rev. Fed. Professor. Akwanya Amaechi; presenting a certificate of Award during the *First Eminent Persons Lecture* with the topic: *The Role of Humanities in National Greatness* at Faculty of Arts Lecture Hall University of Nigeria Nsukka on 18th September, 2018, to His Excellency AMB, SEN. Prof. Iyorwuese Hagher. SDP Presidential Aspirant / President African Leadership Institute USA who is the guest Lecturer, at his left is the present Dean of the Faculty  Prof. Nnanyelugo Okoro.
1st Bi Monthly Faculty of Arts Lecture Series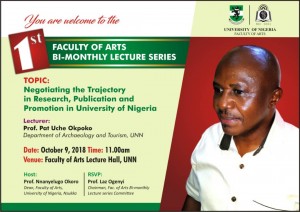 Negotiating  the Trajectory in Research, Publication and Promotion in University of Nigeria.
By Professor Pat. Uche Okpoko